© BBC Three
Written by Samantha Lade, DonateToday
Published: Wednesday, 20th December 2017
'I have absolutely no family left': How a monthly tea party has become a 'lifesaver' for this 96-year-old who sadly lost her husband, children and sisters
'I have absolutely no family left': How monthly tea parties have become a 'lifesaver' for this 96-year-old who sadly lost her husband, children and sisters
96-year-old Ina and volunteer driver Lauren (pictured) both benefit from the tea parties, which aim to combat loneliness
After losing most members of her family, Ina found herself 'insulated' in her own home – a 'prison'. But, thanks to a fantastic scheme run by Contact the Elderly, Ina feels she's found the real reason she's been 'asked and allowed to live to 96.'
For many elderly people, social isolation is a serious problem. Many live alone, have little contact with their friends or family, or may just find it difficult to travel or get out of the house by themselves.
96-year-old Ina knows this all too well. Born in Scotland, Ina had what she describes as 'a wonderful, wonderful life' with her husband John, who she married during the war.
Even after suffering the loss of her only child and a further four miscarriages, Ina says it was the wonderful John who helped her through.
Instead of focusing on the pain and sadness, he encouraged her to be strong – taking her travelling across the world over the following years,
'16 years since John died, and I still miss him,' explains Ina, speaking in a video for BBC Three. 'I have absolutely no family left.'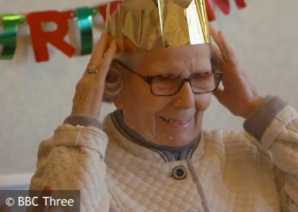 Heartbreakingly, Ina lost her sisters not long after John's death in 2002. At 96, most of her friends have passed on too. Ina does have a few godchildren whom she occasionally speaks with.
'Your life comes [in a way] that you're insulated and you may love your home very much – but it does become a wee prison.'
Combatting Chronic Loneliness
Unsurprisingly, Ina says having company is very important, as old age can be very lonely. She isn't wrong – and the stats show just how serious the issue of chronic loneliness for Britain's older population truly is.
A poll by Bluebird Care in 2016 found that 2 million older people had spent an entire week alone – and that 4 million speak to less than one person a day.
As Contact the Elderly put it – we're facing 'a silent epidemic.'
That's why the charity did something about it.
Contact the Elderly hold monthly afternoon tea parties on a Sunday – the proven loneliest day of the week – welcoming all those 75 or over who are living alone.
The charity also match volunteers up to older individuals, to offer door-to-door transport to those older people who may struggle with reduced mobility.
For Ina, partaking in Contact the Elderly's tea parties has been completely transformational to her life - so much so, she's become an active campaigner.
'They opened this door and suddenly I had a life,' she says, speaking to BBC Three. 'Suddenly, I had people that could talk my language.'
Two million older people (18%) have spent more than a week consecutively without seeing anyone.
- OnePoll | Bluebird Care | Contact the Elderly
'It's a lifesaver, an absolute lifesaver. I know now why I've been asked and allowed to live to 96. Because, I think I'm helping people.
'You know – it's only a couple of hours, but it's a magical couple of hours. If we're having a good time, they've got to throw us out. The guests absolutely love it.
'When I see them enjoying themselves – it's the best feeling ever.'
Conversation, Companionship and a Cuppa
It's difficult to portray the positive impact that the charity's tea parties have had on the 100,000 lonely older people they've supported and comforted over the past half a century.
By promoting conversation and companionship over a cuppa and slice of cake, elderly people and younger volunteers can begin to recreate the traditional sense of local community.
Ina says she particularly likes visiting hosts' homes who have children or grandchildren around
In fact, figures from the charity show that 95% of elderly guests now say they have something to look forward to each month.
And heartwarmingly, another 81% believe they have made a new group of friends.
Speaking again to BBC Three, Lauren – a volunteer driver for the charity for over two-and-a-half-years – said: 'Being sociable is a massive part of our mental health, and so for that reason, it's massively important that these guests are able to have some sort of interaction with other people.'
Yet many lonely older people still do not know about the charity – so the organisation strives to develop, launch and support new Contact the Elderly groups in all corners of the UK.
Calling the charity a 'lifesaver', Ina believes that Contact the Elderly's parties have rejuvenated her by 'opening up a door to a ray of sunshine – a new family'.
Ina finishes: 'I feel that I'm me again. I really do – I don't feel my age. It's wonderful – that's all I can tell you.'
About this charity
Contact the Elderly
Founded
2011
Reach
National
What they do
Since 1965, Contact the Elderly have used the mantra 'care, conversation and a cuppa' to fight chronic loneliness and social isolation among older people. The charity champion face-to-face contact, organising monthly Sunday afternoon tea parties for small groups of people aged 75 or over who live alone.