© Blue Lamp Foundation
Written by Samantha Lade, DonateToday
Published: Thursday, 4th January 2018
He broke his back, legs, knees, ribs and shoulder on duty – but his determination to return to the front line has helped him get back on his feet again
He broke his back, legs, knees, ribs and shoulder on duty – but his determination to return to the front line has helped him get back on his feet again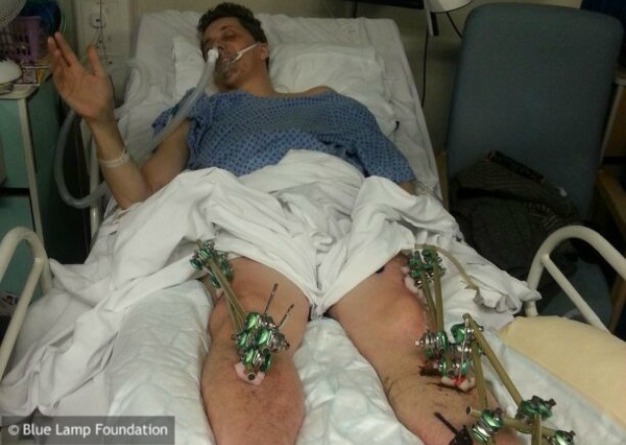 The Blue Lamp Foundation was founded by PC David Rathband to help injured service heroes like Nick (pictured)
PC Nick Barman's life was turned upside down after he suffered a tragic motor accident whilst responding to a road incident in Hampshire. Doctors told him that he'd never be able to walk again – but Nick has since proved his utter determination to get back on his feet, with help from The Blue Lamp Foundation.
At 48-years-old, Nick Barman had been with the police force for 23 years – almost half of his life. He was working as a Road Policing Unit – a service who support the force through means of traffic patrols, armed response, crash investigation and motorcycles – when the unthinkable happened.
On February 4th, 2013, Nick's world changed forever.
He was responding to an incident on a BMW motorcycle on the A31 in Alton, Hampshire, when an Audi car he was trying to overtake suddenly swerved.
Desperate to get to the location he was needed at, Nick was travelling at over 130mph. As the Audi clipped he front of his bike, he lost all control of the vehicle, going on to hit a storm drain in the central reservation.
From there, the bike cartwheeled from beneath him.
"Recovery was the longest six months of my life"
- PC Nick Barman
The impact from the accident was instant. Nick broke both legs and his knees after being thrown into the handlebars at full force.
From there, he was 'catapulted' approximately 300 feet forwards through the air – travelling over heads of the paramedics tending to the initial incident Nick was making his way towards.
As a result, Nick broke his left ankle, his pelvis in four places, his little toe and lower back. Then, on further collision with a stationary vehicle, he broke his left shoulder and several ribs.
This collision even caused the collapsing of his lung – which stopped his heart.
It was thanks to the paramedics from the initial incident that Nick was revived and that a specialist surgeon was contacted. This surgeon was then flown in to operate at roadside, restarting Nick's heart to a stable pace on site.
Eager to Rebuild and Recover
Nick's injuries to his legs were so severe that he was expected to become a double amputee; the PC was even told he'd never walk again.
However, after 30 long hours of intricate surgery – including replacing all the lost muscle in his legs with ligaments from other parts of his body – and with equipment provided by the Blue Lamp Foundation, Nick has begun to rebuild his body. He's on a slow, but sure, road to recovery.
At first, Nick's pride as a 6ft2 Police Constable would not allow him to sit in a wheelchair – and he resisted any help from the Blue Lamp Foundation, who were recommended to him, wanting to be independent in his life.

At this stage, Nick was washing at the kitchen sink, and travelling to his girlfriend's grandmother's house if he needed to shower – a routine that became tiring, very quickly.

Defying the odds, Nick is now walking again, with the aid of leg braces and a crutch
Soon, Nick revisited the help and information available from the Blue Lamp Foundation, and went on to receive a crucial grant of almost £1,000.
This helped to purchase a bath lift for Nick, as well as a Continuous Passive Motion (CPM) machine – which helped to constantly move the affected joint, whilst diffusing out blood and waste products from the damaged cartilage.
The CPM has benefitted Nick greatly, helping his muscles to work once again.
The Blue Lamp Foundation are delighted to share that Nick is now walking with leg aids and a crutch, something surgeons initially thought would be impossible.
When asked about his recovery, Nick doesn't hesitate to label the period 'the longest six months of my life' – but his passion for his job has been a driving factor to get back to 'as normal a life' as he can.
Although he awaits yet more surgery, Nick is defined by his never-say-die attitude and hope for the future. He wishes to make a full recovery and to one day – injuries permitting – make his return to the force as a frontline officer.
Incredibly, he even wishes to return to the saddle of a motorcycle.
If one thing's for sure, it's that Nick will always have the full support of PC David Rathband's Blue Lamp Foundation, who continue to support injured emergency services heroes just like Nick across the country, in their greatest times of need.
Tell your own story
Whether you're a charity or simply a person who has a similar story about charitable acts. We'd love to hear about them.
Find out more