© Daxiao Productions, Shutterstock
Written by Samantha Lade, DonateToday
Published: Thursday, 8th February 2018
'After being strangled for the last time, I fled on foot with my baby with just the clothes on our backs' – a domestic abuse survivor's story
'After being strangled for the last time, I fled on foot with my baby daughter with just the clothes on our backs' - a domestic abuse survivor's story
After Catherine made the brave decision to flee from her abuser with her baby in arm, the last thing she expected was to be turned away from a string of already filled-up refuges. The pair were forced to lived dangerously – until Women's Aid were able to save their lives.
'Taking the first steps to say you are being abused, bullied, beaten and punched is one of the hardest things anyone will ever do in their lives,' begins Catherine, a domestic abuse survivor.
'I know, because I did.'
She can still recall the exact incident that pushed her over the edge, forcing her to flee for not only her life - but her baby daughter's too.
'After being strangled for the last time, I fled on foot with my baby daughter with just the clothes on our backs,' continues Catherine. 'The physical effects of abuse heal, but the emotional and mental effects can last a lifetime.'
Sadly, her story is far from unique; it's estimated by the Office for National Statistics that over 4.3 million women have experienced domestic abuse at some point since the age of 16.

"On average, two women are killed by their partner or ex-partner every week in England and Wales."
- Office for National Statistics, 2017
But Catherine couldn't have anticipated what came next. After searching for a temporary safe haven to house her and her daughter, Catherine hit a huge stumbling block.
'There were no spaces available in a refuge, and my 6-month-old daughter and I were housed in a homeless hostel,' she recalls.
Here, the pair lived a dangerous life – with their room right next door to a drug dealer.
'Each night, I barricaded the door with my bed and slept very little: each noise was my abuser, each change in light was him coming for me and each car pulling up outside were – in my head – my last breaths,' she remembers.
Catherine stood by the notion that she had done the right thing by her daughter – yet, it didn't make the reality any easier to handle.
'I left [my abuser] with no money, no friends and limited family,' she explains. 'Yet, I still felt penalised to be living like I was.' Quite simply – it was no way to live.
"Last year, 113 women were killed by men in England, Wales and Northern Ireland."
- Women's Aid Femicide Census
Saving Women and Children's Lives
Thankfully for Catherine and her daughter, help was just around the corner.
After reaching out to Women's Aid, Catherine and her daughter were offered a space in a Women's Aid refuge – where her life finally began to turn around.
'Here, I received support for housing, counselling, and empathy,' says Catherine.
'But most of all, they gave me the time and space to recover in safety with my daughter, and discover that life was worth living again.'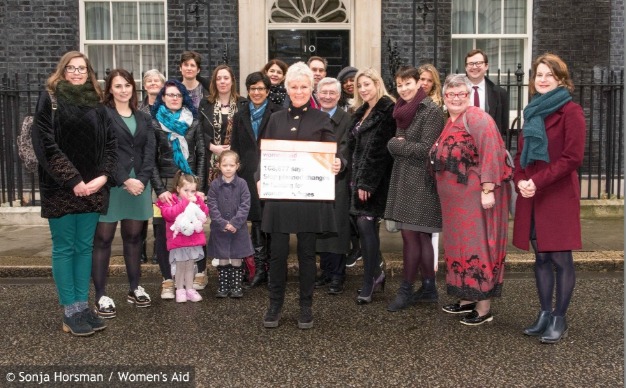 Women's Aid have been working for over 40 years to ensure that women and children like Catherine and her daughter have access to life-saving services across the country.
Recently, actress Dame Julie Walters joined Women's Aid to deliver a petition to Downing Street, which called for the government to halt dangerous planned changes to the way domestic abuse refuges are funded.
A Women's Aid emergency response survey of refuge services in England had found that almost 40% of refuge services believed they could be forced to close their doors for good, as a result of these changes.
Help protect refuges and stop dangerous planned changes to their funding, which would put women and children's lives at further risk, by signing the charity's petition here.
To find out more information about Women's Aid, visit their website here.
Tell your own story
Whether you're a charity or simply a person who has a similar story about charitable acts. We'd love to hear about them.
Find out more